Institute of Neurosciences
Bayfront Neurosurgical Associates provides our community with the top surgical care for neurological needs.
A neurological examination is an evaluation of a person's nervous system that can be performed in the doctor's office.
Many sufferers have never seen a health care provider for their condition.
Know your nervous system code words.

Neurological conditions are concerned with diseases, injuries, and disorders of the brain, nerves, and spinal cord.

There are many nervous system disorders that require clinical care by a physician or other health care professional.

A complete and thorough evaluation of a person's nervous system is important if there is any reason to think there may be an underlying problem.

Neurological rehabilitation can often improve function, reduce symptoms, and improve the well-being of the patient.

Neurological surgery, also called neurosurgery, is the branch of medicine that provides both operative and nonoperative management of disorders that affect the central and peripheral nervous systems.
About the Institute of Neurosciences
From brain tumors, strokes, and seizures to head trauma, and spinal cord injuries and disorders, our experienced team has the expertise and technology to improve a patient's quality of life.
Our Institute features a dedicated neurology staff of board-certified neurosurgeons, neurologists, an interventional neuroradiologist, and physicians with sub-specialties that include stroke, epilepsy and Parkinson's disease. Our physicians work collaboratively with a skilled, multidisciplinary team of nurses, rehabilitation specialists and support staff who are specialized in neurology.
Our fully equipped neurodiagnostics lab is among the best in the region for diagnosing neurological conditions and helping physicians evaluate the progress of illness or injury. And, Bayfront has a 38-bed unit dedicated to the care of neurosciences patients.
Our Interventional Neuroradiology (INR) team is available to diagnose and treat a variety of conditions, including stroke and brain aneurism. The goal of the team is to provide quick, minimally invasive options to treat severe conditions, minimizing the impact to the patient.
Comprehensive Stroke Center
Bayfront is certified as a Comprehensive Stroke Center with the Gold Seal of Approval from the Joint Commission and was one of three hospitals to be recognized for excellence in stroke care at the International Stroke Conference in 2007.
As the county's first national certified Comprehensive Stroke Center, Bayfront Health St. Petersburg offers comprehensive treatment from emergency care to rehabilitation, and features state-of-the-art evaluation, neuro-imaging, interventional neuroradiology and clot-dissolving treatments.
Prompt care is crucial in treating stroke patients. In our emergency department, Bayfront's Brain Attack Team quickly assembles the best health care professionals and the latest medical technology for the most positive outcomes, including minimally invasive clot-busting technology only available at Bayfront Health St. Petersburg.
Offering the full continuum of care, Bayfront's Rehabilitation Services - accredited by the Commission of Accreditation of Rehabilitation Facilities - provides a full range of inpatient and outpatient programs for stroke patients. Patients work to regain their independence under the care of a multidisciplinary team of skilled physicians, therapists, speech language pathologists, nurses and psychologists.
Interventional Neuroradiology
Bayfront is home to the area's only interventional neuroradiologist. Learn how this emerging technology can help stop and reverse strokes.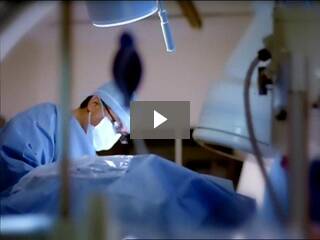 Common Signs of Stroke
Stroke is a 911 emergency. Know these warning signs of stroke and teach them to others. Every second counts.
Sudden numbness or weakness of the face, arm or leg, especially on one side of the body
Sudden confusion, trouble speaking or understanding
Sudden trouble seeing in one or both eyes
Sudden trouble walking, dizziness, loss of balance or coordination
Sudden, severe headache with no known cause
For more information, visit the American Stroke Association.
Sleep Lab
If you have trouble falling and staying asleep day after day, or you're still tired even after an average night's rest, it's time to ask for help. Sleep disorders, such as apnea, narcolepsy, parasomnia and chronic insomnia are more serious than an occasional poor night's sleep.
Our diagnostic sleep center provides state-of-the-art assessment and treatment for patients suffering from sleep disorders. During an overnight sleep study, our staff monitors the patient's stages of sleep, heart rate, breathing, brain activity and body movements to diagnose the patient's condition. The goal is to help patients achieve more normal sleep patterns.
To schedule your appointment or for more information, call the Sleep Lab at (727) 893-6096.
Advanced Neurologic Expertise
Bayfront's Institute of Neurosciences offers patients unparalleled expertise with its Comprehensive Stroke Center, comprehensive programs, experienced physicians and skilled healthcare professionals. We're committed to providing patients the full continuum of care – from initial admission, to recovery, to rehabilitation, to support groups. We're with you every step of the way.