Emergency Medicine Center
When a medical emergency occurs, it's not always easy to think clearly but a crisis means that you need to act quickly.
Would you know what to do if a friend or acquaintance collapsed while you were there?
Knowing what the warning signs of a heart attack are and how to respond could save a life.
Many nontraumatic situations or conditions may occur and need to be handled properly.

Examples of medical situations and conditions that warrant immediate medical attention.

In an emergency, it is easy to "forget" even the most well-known information.

Here are some tips from the American College of Emergency Physicians that all members of your household should know.

In the interest of protecting yourself, it's best to learn about emergency medicine before you find yourself in an ER.
When Every Second Counts
Bayfront Health St. Petersburg's extensive commitment to emergency medicine includes a 24-hour emergency department, a state-accredited Level II Adult and Pediatric Trauma Center – the only trauma center in Pinellas County - and Bayflite medical helicopters. Bayfront's emergency department annually treats approximately 50,000 patients, with nearly 2,200 of those being critically injured trauma patients. Our trauma program has celebrated lifesaving care for 25 years.
Bayfront's emergency facilities provide specialized areas for the care of women and children, cardiac isolation monitoring, chest pain, stroke, trauma care and Fast Track for urgent cases.
You can count on Bayfront's board-certified emergency physicians and a highly professional staff of emergency room nurses, nurse practitioners, paramedics and physician assistants. A team of physicians of multiple specialties is always on call.
Local fire rescue and emergency medical service technicians also work closely with the ER team to ensure the community has the best emergency treatment available.
Bayfront offers the best range of emergency diagnostic services, from laboratory services to our 64-slice CT scanners, from our cardiac catheterization labs to our operating rooms. The emergency department also has its own X-ray room for fast and efficient test results.
The Best Treatment for Stroke is Teamwork
Bayfront's Stroke Alert Team quickly assembles the best health care professionals and the latest medical technology. That includes immediate and expert evaluation of symptoms in the emergency department, fast turnaround on lab tests, readily available diagnostic imaging equipment and prompt treatment with medication that dissolves blood clots and interventional neuroradiology. The goal is to stop or minimize damage to the brain as quickly as possible.
Bayfront is certified as a Comprehensive Stroke Center with the Gold Seal of Approval from the Joint Commission and was one of three hospitals to be recognized for excellence in stroke care at the International Stroke Conference in 2007.
A key to our comprehensive stroke program is advanced technology available through Bayfront's Interventional Neuroradiology team, such as aneurysm coiling, stents and angioplasty of intracranial blood vessels.
Post treatment, Bayfront offers a full continuum of care including a dedicated neurology unit for stroke patients, inpatient rehabilitation and outpatient rehab to help patients recovery and return to independent living.
Signs and symptoms of stroke
Like a heart attack, every second counts when you or a loved one may be having a stroke. Know the signs and symptoms of stroke so you can respond immediately and get the best care fast.
Sudden numbness or weakness of the face, arm or leg, especially on one side of the body
Sudden confusion, trouble speaking or understanding
Sudden trouble seeing in one or both eyes
Sudden trouble walking, dizziness, loss of balance or coordination
Sudden, severe headache with no known cause
Experiencing Chest Pain?
Chest pain is a symptom of cardiac distress.
At the first sign of chest pain, call 911 or drive
to Bayfront's Chest Pain Center in the
Emergency Department at 701 Sixth St. S.,
St. Petersburg.
Chest Pain: Get Treatment Fast
Bayfront is a nationally accredited Chest Pain Center and was the first in Pinellas County to earn this prestigious accreditation from the National Society of Chest Pain Centers. This national designation affirms Bayfront's commitment to providing patients with the highest quality heart care from a patient's arrival in the emergency room until discharge.
Four beds in our emergency room-based center are designated for chest pain observation 24 hours-a-day, seven days a week. Once determined that the patient needs additional cardiac care, the patient has instant access to Bayfront's expert team of cardiologists, state-of-the-art diagnostic tools, catheterization laboratories, and premier open-heart surgery center.
The National Society of Chest Pain Centers is a patient-centered professional organization focused on improving care for patients and the importance of rapid diagnosis and treatment of heart disease.
Bayflite
Taking Emergency Transport to New Heights
Bayfront's aeromedical transport program, Bayflite serves approximately 3 million residents in 17 counties along West Central Florida. Our trauma program has provided lifesaving care for 25 years. Bayflite is the largest hospital-based trauma flight program in the Southeast United States. Bayflite also provides hospital-to-hospital transport of critically injured infants, children and adults.
Started more than two decades ago, Bayflite was the first flight program in Florida that carried life-saving blood on every flight. Annually, Bayflite transports more than 2,600 patients to the closest, available trauma center in West Central Florida.
For more pictures, videos, and more information on the state's top emergency transport program, visit the official Bayflite Website.
Watch our real heroes in action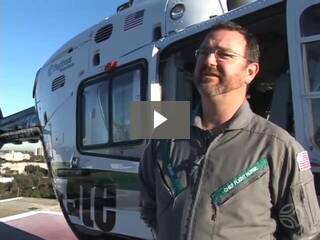 Did you Know Heart Attacks Have Beginnings?
These "beginnings" occur in over 50% of patients. Most importantly, if recognized in time, these "beginnings" can be treated before the heart is damaged!
People may also experience mild chest symptoms such as pressure, burning, aching, or tightness. These symptoms may come and go until finally becoming constant and severe.
Call 9-1-1. Don't Wait More Than 5 Minutes!
Did you know?
85% of heart damage occurs within the first two hours of a heart attack. Know the subtle danger signs of a heart attack and act upon them immediately - before heart damage occurs!
Alarming Statistics
Heart disease caused approximately 1 of every 6 deaths in the United States in 2006.
In 2011, an estimated 785,000 Americans will have a first-time heart attack, and an estimated 470,000 will have a repeat heart attack.
Every 25 seconds, an American will have a coronary event, and every minute, someone will die of one.
We can Handle Everything from Sprained Ankles to Life-Threatening Injuries
When you have a medical emergency, you count on the team at Bayfront Health St. Petersburg. We offer 24-hour emergency room services led by trained emergency medicine physicians who are supported by compassionate medical and professional staff. Our emergency room is easy to access and features comfortable surroundings. We are backed by the full resources of an integrated health system offering the latest medical technology and diagnostic capabilities for adults and children.